Expert Landscaping, Lawn Care and Sprinkler Systems for the Santa Clara Valley
Since 1987, Clancy's Landscape and Maintenance has been the greater San Jose area's premier landscaping professionals. We specialize in the design and care of beautiful lawns and pleasing landscaping for homes, offices and commercial buildings.
We have a comprehensive knowledge of plants, trees, lawn products, sprinkler systems and maintenance strategies, and we can help you keep a healthy yard year–round with the following lawn and landscape services for both residential and commercial customers: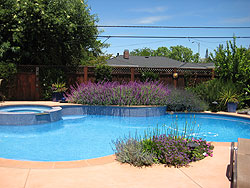 Lawn Care
Tree and Shrub Care
Landscaping Design & Lighting
Irrigation and Sprinkler Systems
Concrete and Brick Patio Installation
Driveways and Walkways
Contact us today to see why we should be your lawn and landscape professionals!